Boswellia serrata liquid extract with the highest standardized content of cembrenes (550 g/kg; 55%) and serratol (300 g/Kg; 30%) on the market.
The Boswellia genus, in addition to being known for its ability to produce bioactive boswellic acids, is able to biosynthesize important cembrane diterpenes. Boswellia serrata, the most studied and used species worldwide, synthesizes the bioactive diterpenes serratol, incensol and incensol acetate, important molecules able to interact with vanilloid receptors.

For this reason Calliero S.p.A. has developed an innovative extraction method to obtain the liquid extract of B. serrata with the highest content of cembrenes on the market. This extract is the result of innovative molecular fractionation techniques that allow the isolation and standardization of cembrenes and serratol from B. serrata powder extracts (see Cal-BAS). Cal-CEM with its high and unique serratol titer, exploits the ability of this molecule to interact with vanilloid receptors [Pollastro et al. 2016].
The innovative extraction systems therefore allow Calliero S.p.A. to produce a standardized liquid extract of Boswellia serrata with the highest content of serratol on the market.
ANALYTICAL TECHNIQUES
The identification and quantification of the bioactive serratol and other diterpene compounds present in Boswellia serrata is carried out using gas chromatography combined with mass spectrometry. In particular, serratol is identified by gas chromatography coupled to mass spectrometry both single quadrupole (GC-MS) and triple quadrupole (GC-MS-QQQ), while quantification is obtained by gas chromatography coupled to flame ionization detector (GC-FID) by use of internal standards. The search for pesticides and toxins is carried out in house by UHPLC-ESI-Triple Quadrupole Mass Spectrometry and GC-MS triple quadrupole mass spectrometry on each single batch.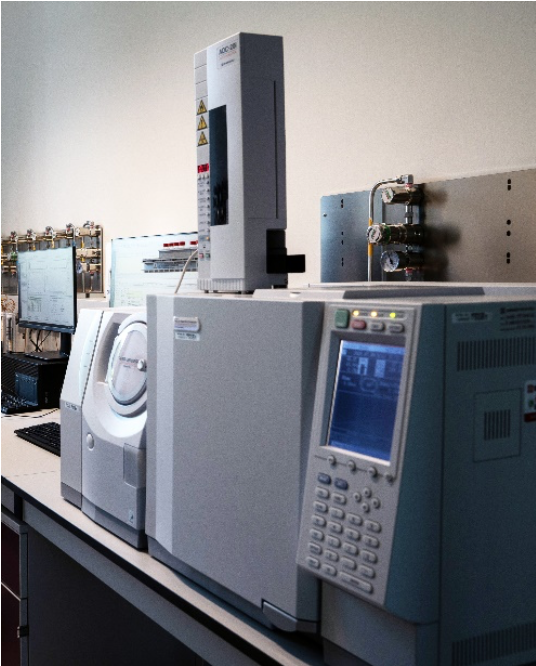 EXTRACTION TECHNIQUES AND PRODUCTION CAPACITY
Boswellia oleogum-resins are extracted with an extractor with a capacity of 1500 kg. The yield in extract is 800 kg/day. On an annual basis, the production capacity is several tons and is carried out entirely by Calliero S.p.A. in the Moretta (CN) Italy plant, without the use of intermediaries or the purchase of semi-finished products. High quality Boswellia serrata oleogum-resins are selected from the best manufacturing companies located in India and are shipped in batches of 20 tons in containers for extraction. The amount of oleogum-resins extracted allows a high standardization of the batches and a guarantee of production.
Boswellia serrata extract is subjected to a chemical separation process, where the hydrophobic compounds that include cembrenes and serratol are separated from polysaccharides and other water-soluble substances. The hydrophobic extract is concentrated and is free of unwanted molecules such as the genotoxic compound estragole [Ding et al. 2015] which is eliminated along with the essential oils.
The molecular fractionation developed by Calliero S.p.A. allows to obtain a standardized liquid extract with a high serratol content (300 g/kg) and with other cembrenes (total cembrenes 550 g/kg).
BOSWELLIA SERRATA BOASTS THE LARGEST NUMBER OF CLINICAL AND CHEMICAL STUDIES IN THE BOSWELLIA GENUS
Calliero S.p.A. has chosen to develop innovative techniques for the extraction and production of Boswellia serrata extracts due to the considerable amount of scientific studies on this species and the wide application of B. serrata extracts in the most effective food and dietary supplements.
PROPERTIES OF SERRATOL
TRPV3 (Transient Receptor Potential Vanilloid 3) are proteins that belong to a family of non- selective cation channels that function in a variety of processes, including temperature sensation and vasoregulation. The heat-sensitive members of this family are expressed in subsets of human sensory neurons that terminate in the skin and are activated at distinct physiological temperatures. Some cembrenes, such as incensol acetate, act as powerful activators of TRPV3 [Moussaieff et al. 2008]. TRPV3 is also expressed in the central nervous system (CNS) and, using incensol acetate as a probe, its activation has been associated with anxiolytic and antidepressant activity. Moreover, TRPV3 expressed in adipocytes also plays a critical role in the accumulation of visceral fat [Cheung et al. 2015]. As specific ligands of TRPV3, cembrenes such as serratol and incensol acetate have broad physiological implications, from human genetic diseases to inflammation, skin physiology, weight management and brain function [Luo et al. 2014]. Serratol is one order of magnitude more powerful than incensol acetate in acting as an activator of TRPV3 and represents the first submicromolar TRPV3 agonist described to date [Pollastro et al. 2016]. In addition to these properties, B. serrata diterpenes exhibit selective binding to acetylcholinesterase, various bacterial target proteins and HIV-1 reverse transcriptase [Byler and Setzer 2018]. Furthermore, serratol, like incensol acetate, is able to inhibit the expression of TNF-α, NF-kB, and IL-1β [Moussaieff et al., 2008]. B. serrata diterpenes are excellent agents against psoriasis [Halim et al., 2020; Sahoo et al 2020], as antispasmodics [Greve et al. 2017] as well as powerful anti-inflammatory agents [Siddiqui, 2011].
The bioactivity of Boswellia serrata extracts is directly proportional to the content of cembrane diterpenes such as serratol. For this reason, Calliero S.p.A. produces the only extract available on the market with the highest standardized content of serratol. The large-scale industrial process and innovative technologies make it possible to obtain products at highly competitive costs and free of unwanted compounds (such as estragole), thus ensuring a high level of purity and safety and an unbeatable quality to price ratio.
PACKAGING
All products are delivered in high quality aluminium containers especially designed for packaging, transport and storage of value products. The containers are made of 1050A grade Aluminium with inner coating and available in sizes from 2 Kg to 25 Kg for powders and from 50 gr to 25 Kg for liquids. These containers not only guarantee an optimal tightness, but also a high level of chemical, microbiological and particle cleanliness.
Our delivery system is based on three main concepts:
Safety: Secured transport with a lever lock ring closure, nitrile (or silicone) gasket and an aluminum lid for powders and PP cap with tamper evident tear off ratchet ring and PE plug with tear off ring for liquids; high resistance and tightness even when exposed to high pressure differences; compatible with anti-tamper seals; no residue after use; excellent mechanical resistance against shocks, perforations and compressions caused during transport. Moreover, they are compliant to the European standard regulation for food contact.
User friendly: Easy to use and to empty with a 220 mm (8.66 in) wide open top for powders and from 22 mm to 46 mm (0.9 to 1.8 in) bottle neck for liquids; easily washable and sterilizable. The liquid containers allow precise drop, easy pouring and a standard closure. Bottles from 1 to 25 Kg are equipped with a rotating handle that helps to manipulate the bottles.
Environmentally friendly: 100% recyclable high scrap value aluminum monoblock.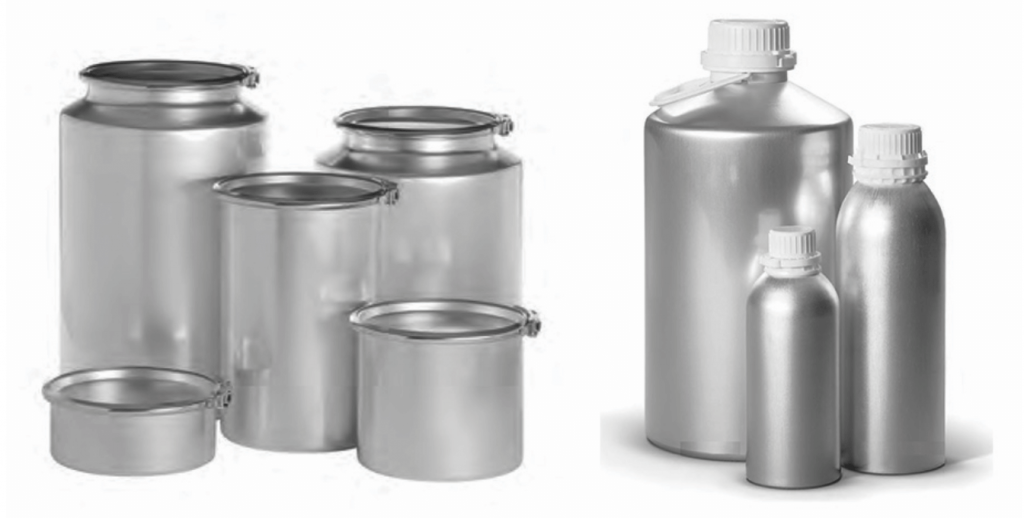 Bibliography
Byler, G.K. e Setzer, W.N. (2018) Protein Targets of Frankincense: A Reverse Docking Analysis of Terpenoids from Boswellia Oleo-Gum Resins. Medicines Vol. 5 art. 96.

Cheung, S.Y et al. (2015) Activation of Transient Receptor Potential Vanilloid 3 Channel Suppresses Adipogenesis. Endocrinology Vol. 156 pp. 2074−2086.

Ding, W. et al. (2015) In Vivo Genotoxicity of Estragole in Male F344 Rats. Environmental and Molecular Mutagenesis Vol. 56 pp. 356-365.

Greve, H.L. et al. (2017) Terpenoids from the oleo-gum-resin of Boswellia serrata and their antiplasmodial effects in vitro. Planta Medica Vol. 83 pp. 14-15.

Halim, S.A. et al. (2020) Diterpenoids and Triterpenoids From Frankincense Are Excellent Anti-psoriatic Agents: An in silico Approach. Front. Chem. Vol. 8 art. 486.

Luo, J. et al. (2014) Thermally Activated TRPV3 Channels. Curr. Top. Membr. Vol. 74 pp. 325−364.

Moussaieff, A. et al. (2008) Incensole acetate, an incense component, elicits psychoactivity by activating TRPV3 channels in the brain. FASEB J. Vol. 22 pp. 3024−3034.

Moussaieff, A. et al. (2008) Incensole acetate: a novel neuroprotective agent isolated from Boswellia carterii. J. Cereb. Blood Flow Metab. Vol. 28 pp. 1341–1352.

Pollastro, F. et al. (2016) Neuroactive and Anti-inflammatory Frankincense Cembranes: A Structure-Activity Study. Journal of Natural Products Vol. 79 pp. 1762-1768.

Sahoo, D. et al. (2020) Boswellia serrata Roxb. ex Colebr. derived phytochemicals against skin disease. Journal of Pharmaceutical Research International Vol. 32 pp. 109-112.

Siddiqui, M.Z. (2011) Boswellia Serrata, A Potential Antiinflammatory Agent: An Overview. Indian J Pharm Sci. Vol. 73 pp. 255–261.