Powder extract of Boswellia serrata with high standardized contents of boswellic acids (650 g/kg), AKBA (35 g/kg) and bioactive amyrins (200 g/kg).
Among the numerous species belonging to the genus Boswellia able to synthesize boswellic acids and bioactive amyrins, Boswellia serrata is by far the most studied and used worldwide. Unlike other species such as Boswellia carterii and Boswellia sacra, whose taxonomic position is still debated due to the evident chemical and botanical differences [Woolley et al. 2012], the chemical profile and taxonomic classification of Boswellia serrata are undisputed.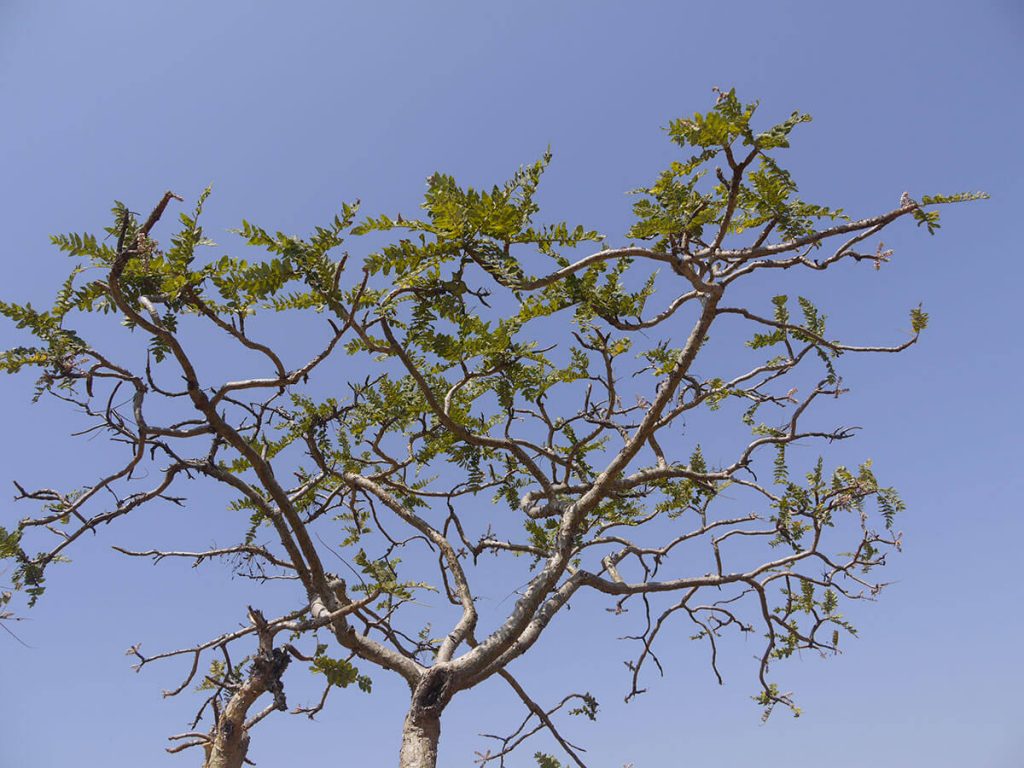 For this reason, Calliero S.p.A. has developed an innovative extraction method to obtain the powder extract of B. serrata and has developed a pulverization technique that allows the standardization of the product with 650 g/kg boswellic acids improving the anti-inflammatory and neuroprotective properties of these compounds [Sadeghnia et al. 2017; Du et al. 2015].
The innovative extraction and pulverization systems allow Calliero S.p.A. to produce standardized extracts of Boswellia serrata with high values of boswellic acids and of the bioactive triterpene AKBA (11-acetyl-keto-beta-boswellic acid) combined with high concentrations of bioactive amyrins.
ANALYTICAL TECHNIQUES
The identification of the bioactive compounds present in Boswellia serrata extracts is carried out using liquid and gas chromatography combined with triple quadrupole mass spectrometry. In particular, amyrins are identified by gas chromatography coupled to mass spectrometry (GC-MS-triple quadrupole), while quantification is obtained by gas chromatography coupled to a flame ionization detector (GC-FID) by use of internal standards. Boswellic acids are analyzed by UHPLC-ESI-DAD combined with a triple quadrupole mass detector. The identification is carried out in mass spectrometry as well as the quantification of the alpha and beta boswellic acids that produce distinct fragments. AKBA (whose only distinctive mass fragments are the molecular peak and the acetate fragment) and all other boswellic acids are also quantified through the DAD, on the basis of calibration curves using pure standards. The search for pesticides and toxins is carried out in-house by UHPLC-ESI and GC-Triple Quadrupole Mass Spectrometry on each single lot.
EXTRACTION TECHNIQUES AND PRODUCTION CAPACITY
Boswellia oleogum-resins are extracted with an extractor with a capacity of 1500 kg. The yield in extract is 800 kg/day. On an annual basis, the production capacity is several tons and is carried out entirely by Calliero S.p.A. in the Moretta (CN) Italy plant, without the use of intermediaries or the purchase of semi-finished products. High quality Boswellia serrata oleogum-resins are selected from the best manufacturing companies located in India and are shipped in batches of 20 tons in containers for extraction. The amount of oleogum-resins extracted allows a high standardization of the batches and a guarantee of production.
Boswellia serrata extract is subjected to a chemical separation process, where the hydrophobic compounds that include boswellic acids and amyrins are separated from polysaccharides and other water-soluble substances. The water-soluble extract is purified with an innovative process and dried while the hydrophobic extract is concentrated and is free of unwanted molecules such as the genotoxic compound estragole [Ding et al. 2015] which is eliminated along with the essential oils.
The powder extract has a standardized content of 650 g/kg of boswellic acids (65%) of which 35 g/kg (4%) are represented by the bioactive compound AKBA. Moreover, the powder extract contains 200 g/Kg bioactive amyrins.
BOSWELLIA SERRATA BOASTS THE LARGEST NUMBER OF CLINICAL AND CHEMICAL STUDIES IN THE BOSWELLIA GENUS
Calliero S.p.A. has chosen to develop innovative techniques for the extraction and production of Boswellia serrata extracts due to the considerable amount of scientific studies on this species and the wide application of B. serrata extracts in the most effective food and dietary supplements. In addition to the known anti-inflammatory and neuroprotective properties [Ammon 2006; Siddiqui 2011; Umar 2014; Sadeghnia et al. 2017] recent studies have shown that Boswellia serrata extracts are bioactive as antispasmodics [Greve et al. 2017], for the treatment of skin diseases [Sahoo et al. 2020; Goswami et al. 2018], in the treatment of dysentery and diarrhea [Rout et al. 2020; Naik et al. 2020], in wound care in diabetic patients [Zhang et al. 2019], in diabetes and hyperlipidemia [Gomaa et al. 2019; Ammon 2019], in the treatment of knee osteoarthritis [Majeed et al. 2019], in the treatment of prostate diseases [Yuan et al. 2008; Liu et al. 2019], in the treatment of Alzheimer's disease [Bawazir et al. 2018], as analgesics [Prabhavathi et al. 2013], as gastroprotectant from ulcers [Singh et al. 2008] and as modulators of the immune system [Ammon 2010]. The following figure summarizes the properties of Boswellia serrata extracts.
The bioactivity of Boswellia serrata extracts is directly proportional to the content of boswellic acids and amyrins. For this reason, Calliero S.p.A. produces powdered extracts of B. serrata with a high standardized content of bioactive molecules. The large-scale industrial process and innovative technologies make it possible to obtain products at highly competitive costs and free of unwanted compounds (such as estragole), thus ensuring a high level of purity and safety and an unbeatable quality to price ratio.
PACKAGING
All products are delivered in high quality aluminium containers especially designed for packaging, transport and storage of value products. The containers are made of 1050A grade Aluminium with inner coating and available in sizes from 2 Kg to 25 Kg for powders and from 50 gr to 25 Kg for liquids. These containers not only guarantee an optimal tightness, but also a high level of chemical, microbiological and particle cleanliness.
Our delivery system is based on three main concepts:
Safety: Secured transport with a lever lock ring closure, nitrile (or silicone) gasket and an aluminum lid for powders and PP cap with tamper evident tear off ratchet ring and PE plug with tear off ring for liquids; high resistance and tightness even when exposed to high pressure differences; compatible with anti-tamper seals; no residue after use; excellent mechanical resistance against shocks, perforations and compressions caused during transport. Moreover, they are compliant to the European standard regulation for food contact.
User friendly: Easy to use and to empty with a 220 mm (8.66 in) wide open top for powders and from 22 mm to 46 mm (0.9 to 1.8 in) bottle neck for liquids; easily washable and sterilizable. The liquid containers allow precise drop, easy pouring and a standard closure. Bottles from 1 to 25 Kg are equipped with a rotating handle that helps to manipulate the bottles.
Environmentally friendly: 100% recyclable high scrap value aluminum monoblock.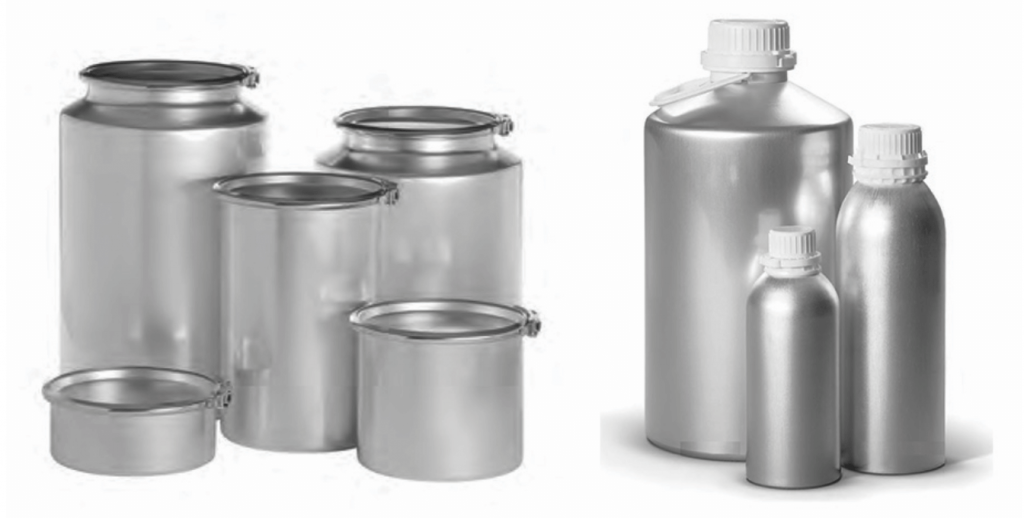 Bibliography
Ammon, H.P.T. (2006) Boswellic acids in chronic inflammatory diseases. Planta Medica Vol. 72 pp. 1100-1116.

Ammon, H.P.T. (2010) Modulation of the immune system by Boswellia serrata extracts and boswellic acids. Phytomedicine Vol. 17 pp. 862-867.

Ammon, H.P.T. (2019) Boswellic extracts and 11-keto-beta-boswellic acids prevent type 1 and type 2 diabetes mellitus by suppressing the expression of proinflammatory cytokines. Phytomedicine Vol. 63 pp. 7.

Bawazir, A.E. et al. (2018) Protective Effect of Boswellia carteri on Aluminium Chloride-Induced Alzheimer's Disease in Male Albino Rat. International Journal of Pharmaceutical and Phytopharmacological Research Vol. 8 pp. 29-39.

Ding, W. et al. (2015) In Vivo Genotoxicity of Estragole in Male F344 Rats. Environmental and Molecular Mutagenesis Vol. 56 pp. 356-365.

Du, Z.Y. et al. (2015) Prospects of Boswellic Acids as Potential Pharmaceutics. Planta Medica Vol. 81 pp. 259-271.

Gomaa, A.A. et al. (2019) Polyphenol-rich Boswellia serrata gum prevents cognitive impairment and insulin resistance of diabetic rats through inhibition of GSK3 beta activity, oxidative stress and pro-inflammatory cytokines. Biomedicine & Pharmacotherapy Vol. 109 pp. 281-292

Goswami, D. et al. (2018) Boswellia serrata oleo-gum-resin and beta-boswellic acid inhibits HSV-1 infection in vitro through modulation of NF-kappa B and p38 MAP kinase signaling. Phytomedicine Vol. 51 pp. 94-103.

Greve, H.L. et al. (2017) Terpenoids from the oleo-gum-resin of Boswellia serrata and their antiplasmodial effects in vitro. Planta Medica Vol. 83 pp. 14-15.

Liu, Y.Q. et al. (2019) Acetyl-11-keto-beta-boswellic acid suppresses docetaxel-resistant prostate cancer cells in vitro and in vivo by blocking Akt and Stat3 signaling, thus suppressing chemoresistant stem cell-like properties. Acta Pharmacologica Sinica Vol. 40 pp. 689-698

Majeed, M. et al. (2019) A pilot, randomized, double-blind, placebo-controlled trial to assess the safety and efficacy of a novel Boswellia serrata extract in the management of osteoarthritis of the knee. Phytotherapy Research Vol. 33 pp. 1457-1468.

Naik, C. et al. (2020) Boswellia serrata Roxb. ex Colebt. derived phytochemicals used in the treatment of diarrhea. Journal of Pharmaceutical Research International Vol. 32 pp. 113-116.

Pollastro, F. et al. (2016) Neuroactive and Anti-inflammatory Frankincense Cembranes: A Structure-Activity Study. Journal of Natural Products Vol. 79 pp. 1762-1768.

Prabhavathi, K. et al. (2013) A randomized, double blind, placebo controlled, cross over study to evaluate the analgesic activity of Boswellia Serrata (shallaki®) in healthy volunteers using mechanical pain model. Indian Journal of Pharmacology Vol. 45 pp. S47-S48.

Rout, K. et al. (2020) Boswellia serrata derived phytochemicals against dysentery. Journal of Pharmaceutical Research International Vol. 32 pp. 120-123.

Sadeghnia, H. R. et al. (2017) Neuroprotective effect of Boswellia serrata and its active constituent Acetyl 11-Keto-Beta-Boswellic Acid against oxygen-glucose-serum deprivation-induced cell injury. Acta Poloniae Pharmaceutica Vol 74 pp. 911-920.

Sahoo, D. et al. (2020) Boswellia serrata Roxb. ex Colebr. derived phytochemicals against skin disease. Journal of Pharmaceutical Research International Vol. 32 pp. 109-112.

Siddiqui, M.Z. (2011) Boswellia serrata, a potential antiinflammatory agent: An overview. Indian Journal of Pharmaceutical Sciences Vol. 73 pp. 255-261.

Singh, S. et al. (2008) The gastric ulcer protective effect of boswellic acids, a leukotriene inhibitor from Boswellia serrata, in rats. Phytomedicine Vol. 15 pp. 408-415.

Umar, S. et al. (2014) Boswellia serrata extract attenuates inflammatory mediators and oxidative stress in collagen induced arthritis. Phytomedicine Vol. 21 pp. 847-856.

Woolley, C.L. et al. (2012) Chemical differentiation of Boswellia sacra and Boswellia carterii essential oils by gas chromatography and chiral gas chromatography–mass spectrometry. Journal of Chromatography A Vol 1261 pp. 158-163.

Yuan, H.Q. et al. (2008) Inhibitory effect of acetyl-11-keto-beta-boswellic acid on androgen receptor by interference of Sp1 binding activity in prostate cancer cells. Biochemical Pharmacology Vol. 75 pp. 2112-2121.

Zhang, P.Z. et al. (2019) Wound healing potential of the standardized extract of Boswellia serrata on experimental diabetic foot ulcer via inhibition of inflammatory, angiogenetic and apoptotic markers. Planta Medica Vol. 85 pp. 657-669.